Cleaning up Flood Damage After a Storm in Your Laconia Home
9/28/2017 (Permalink)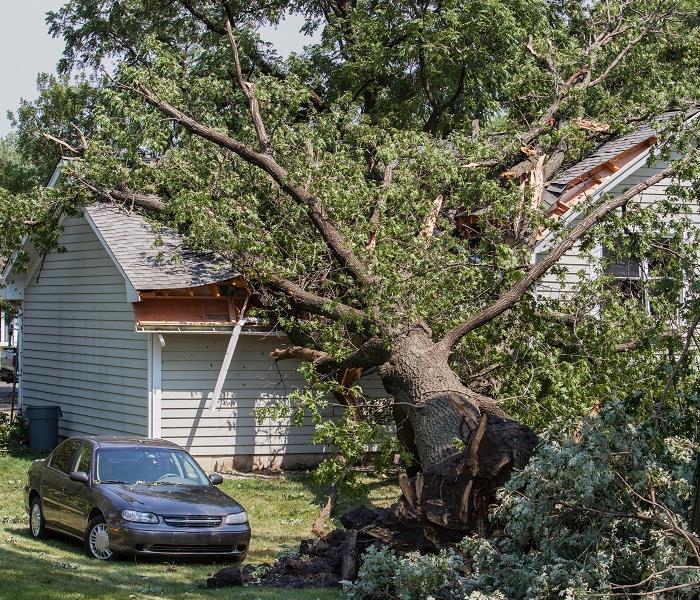 If a tree falls on your home during a storm, SERVPRO can properly remove the water and return your home back to its normal condition.
The Drying Process for Flood Damage Cleanup
The storms passing through your area have caused you to prepare your home, bringing in anything that could be flung around by wind and covering any plants that are delicate. You think you have prepared well, but then you hear a deafening crash as your neighbor's tree falls through your roof and creates a huge hole for the storm to come in. Flood damage in your Laconia home results, as the storm is long and heavy.
While there is no preparation for a situation like this, there is a solution. In these cases of flood damage to your Laconia home, the insurance likely must pay for your damages. Flood damage in your home can be quite disconcerting and destructive. At SERVPRO, we completely understand and take your situation seriously, which is why we move fast to come to your home after you contact us.
Our technicians are professionally trained and IICRC-certified to handle flood damage from storms in a timely and thorough fashion, returning your home to its normal state as soon as possible. The disruption an event like this causes needn't be prolonged for you and your family. We also understand that drying out your home and its contents quickly is important to prevent additional damage such as mold growth.
Four points determine how much time is needed for proper drying. They include the amount of water needs to be evaporated, the temperature, how much humidity there is, and how much air movement there is. We keep in mind the wet goes to dry rule, which means moisture moves from wet materials to drier ones, or wet air to drier air to find equilibrium. The dry air absorbs moisture from wet surfaces, and dry surfaces absorb moisture from the wet air. The four factors all affect the process of we going to dry.
SERVPRO staff uses industrial pumps first to remove the standing water, then dehumidifiers to evaporate the rest of the moisture. If needed, we also use portable heaters to raise the temperature in the affected areas between 70 to 80 degrees for the best results and fastest drying time. Air movers are also used to bring warm, dry air into your home and speed drying. The position of these movers is changed daily if needed until your home is thoroughly dried.
SERVPRO of The Lakes Region are experts at handling flood damage. When your neighbor's landscaping ruins your day in the areas of Belmont, Franklin, or Laconia, give us a call right away at (603) 527-2518.
For more information about Laconia, click here.