Why is Baking Soda Blasting the Right Choice for Crawl Space Mold Removal in Laconia?
10/31/2020 (Permalink)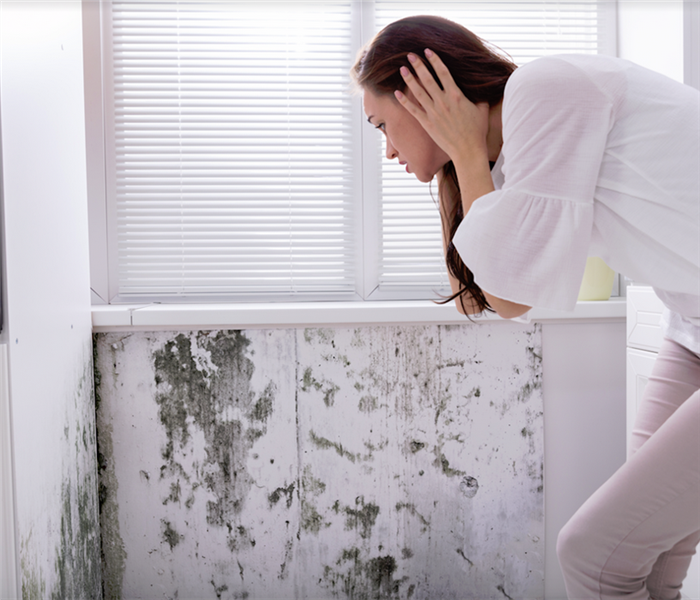 Wherever you have a mold infestation in your home, professional mold damage remediation is the answer. Contact team SERVPRO for services.
Laconia Homeowners Need Effective Mold Removal in Crawl Spaces
A crawl space plays a vital role in Laconia homes – it provides a buffer between your house and the damp, wet earth. As anyone who lives in the Lakes Region knows, there is plenty of rainfall in the area. The presence of so much rain makes it all too easy for crawl spaces to become wet, and once they get damp, the fungus can grow.
If you suspect fungal growth in the crawl space of your Laconia home, call for mold removal straight away. Mold thrives in damp, dark places like a crawl space, and if you do not treat it, it can:
Eat into the wood and cause rotting
Spread throughout the crawl space
Get from the crawl space into the rest of your home
How do you know there is mold in your crawl space?
You do not go into your crawl space every day! So fungus can grow there without you noticing. However, there are several tell-tale signs to look out for:
A musty smell in your Laconia crawl space – open the access hatch, and you will be able to smell it
Moisture inside the crawl space – use a flashlight to look for leaks, or water running on the walls or floor
Patches of mold – use that light source again and look for patches of mold, which might look like dark-colored dirt or dust growing on surfaces
High utility bills – if the moisture is caused by a leak somewhere in your home, you might notice higher than usual utility bills
Presence of pests – if you see damage to your crawl space hatch, such as from rats or other pests, that means moisture can get in there too
What should you do if you notice mold?
Call SERVPRO of The Lakes Region at the first sign of trouble. We're Faster To Any Size Disaster, and it is our job to clean your crawl space and discourage the mold from spreading.
You can expect a callback within an hour of your first call, and we will arrive at your home within four hours. We will send experienced mold remediation technicians who know all the best industry standards and practices for dealing with mold.
Why does SERVPRO favor baking soda blasting for crawl spaces?
Media blasting is the technical term for projecting abrasive media against a surface at high speed. Most media blasting works by using compressed air to push the media out of the blasting machine at high speed. You might know it by its more common name of sandblasting.
We can use many different kinds of media for sandblasting, including ground-up nutshells, glass beads, silica sand, and steel grit. However, many of these media are highly abrasive and can damage the surface we use them on. They are suitable for heavy-duty jobs such as cleaning ocean liners but may not be the right choice for a wooden crawl space.
Baking soda is a highly effective blasting media that is ideal for crawl spaces because:
It is much gentler than other media blasting options
It is environmentally friendly and does not use harsh chemicals
The baking soda has deodorizing properties, which means it deodorizes as it cleans, helping to rid your crawl space of that "mold" smell
It is faster than hand scrubbing
The media blasting nozzle makes it easy to get into tight or awkward spaces
How does baking soda blasting work?
The baking soda particles strike the surface, scrubbing away mold particles. We can then wipe up the baking soda residue, along with the loose mold.
What else can SERVPRO do to help?
For heavy mold infestations on raw timbers like floor joists and beams in the crawl space our AMRT applied microbial remediation technicians can also do dry ice blasting. This takes two techs, one feeds dry ice pellets (like small bullets) into a hopper. The second crew member directs the pressurized pellets at the fungi, effectively scraping them from the substrate. The added benefit of this process is that the pellets sublimate (go directly from a solid to a gaseous state) leaving only the mold debris behind--and no water or moisture.
Media blasting is just one part of mold remediation. SERVPRO can also:
Measure moisture and humidity levels in your crawl space to check for underlying problems
Use HEPA vacuums to suck up mold spores
Set up a negative air system to vent contaminated air outside of your home
Set up drying equipment to make the area drier and less hospitable to mold spores
Use air scrubbers for further deodorization
What can you do to protect your crawl space from mold?
Mold loves moisture, so anything you can do to keep water from your crawl space will help prevent a recurrence. Insulate your crawl space with plastic sheeting and regularly check the insulation to make sure it is sound. Make sure the access hatch is well sealed and deal with any damage immediately.
Examine HVAC or other plumbing components in the crawl space regularly and fix any issues.
Check your downspouts – they should land at least six feet from your crawl space to reduce the risk of run-off getting into the area.
For help with mold in your crawl space, call SERVPRO of The Lakes Region at (603) 527-2518.