We Have Your Back When Your Belmont Bathroom Experiences A Water Damage Disaster
1/19/2019 (Permalink)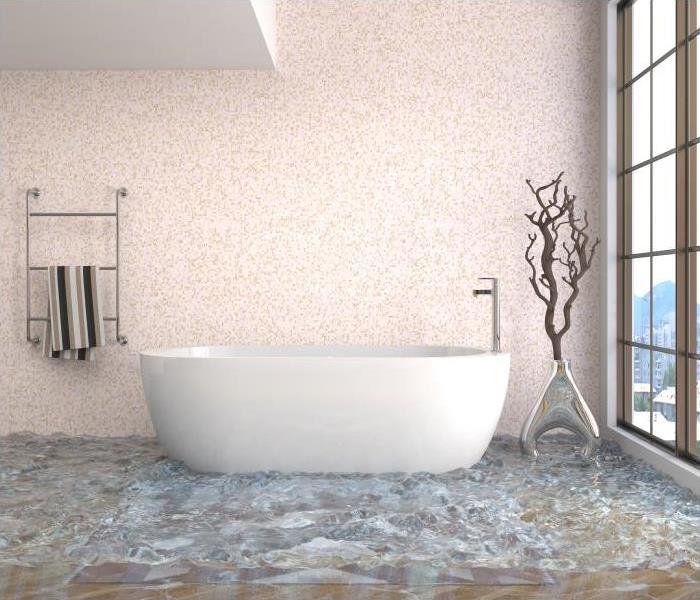 If you ever have a plumbing failure occur inside your home, call SERVPRO of The Lakes Region at (603) 527-2518 24/7.
Water Damage Experts In Belmont Discuss Problems With Bathrooms And Vanities
Any room inside your Belmont home that has pipes running to it is at risk for a plumbing failure. Once water starts leaking out of your pipes, the moisture can start to negatively affect your contents and building materials making it essential that you call in a professional water damage restoration company such as SERVPRO. Plumbing system failures are a leading source of all residential water losses. Plumbing failures cost insurance companies almost 50% more than the second most common source of loss claim. Toilet failures are the second most frequent cause of water damage inside a residential building.

Bathrooms have several drain and supply lines, and it is where toilets are located. Bathrooms are often small areas; therefore when a pipe breaks inside it, extensive water damage in your Belmont home could occur. Bathrooms are also the only room inside your structure that has white, grey and black water sources. Your supply, drain lines, and toilet can all malfunction over time and ruin building materials inside your restroom. Bathrooms also have a lot of tight, confined spaces where moisture can hide. If all of the water in your bathroom is not found and dried out within 48 hours of the original loss, mold can develop in one of the room's many nooks and crannies.

If the source of the loss is a plumbing failure, there is a good chance your bathroom's vanity will get affected. Vanities are the cabinets that hold your bathroom sink up, and they have two supply lines and one drain pipe running in and out of it. All of these lines can break at one time or another, spilling large amounts of moisture into your vanity. If a slow leak develops, it can easily go unnoticed, and mold can grow on the inside of your vanity.

Due to the naturally elevated humidity levels inside your bathroom, mold growth can occur rapidly. To prevent secondary problems like mold, our SERVPRO technicians work fast and utilize specialized equipment and techniques to promptly dry out wet materials. If you ever have a plumbing failure occur inside your home, call SERVPRO of The Lakes Region at (603) 527-2518 24/7.
Click here for more about Belmont.