We Have The Specialized Equipment To Restore Your Belmont Home After A Fire
2/27/2020 (Permalink)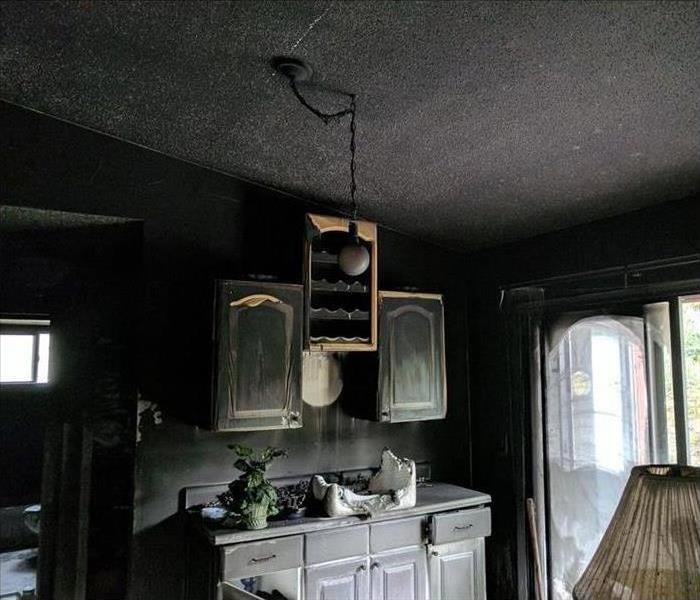 We use our hydroxyl generators and thermal fogging to eliminate the odors in your home caused by a fire. Call us right away to prevent further damage.
Addressing Fire Damage in a Belmont Kitchen
Every year in the United States, public fire departments respond to an average of over one million fires. However, kitchen fires go vastly underreported despite the damage that soot and protein residues can do to structures and appliances. Worse still, exposure to moisture can make soot residues acidic, which further corrodes metals and plastics in your kitchen.
If your Belmont home's kitchen needs fire damage mitigation after a cooking fire, the experienced restoration technicians at SERVPRO are always ready to mitigate damage and remove odors and residues within hours of your call. Even a small stovetop or oven fire can cause long-term problems that can affect the comfort of your home. These IICRC (Institute of Inspection, Cleaning and Restoration Certification)-certified pros strive to minimize losses so that you can enjoy cooking in your home as usual.
Understanding Protein Fires
Protein fires are a type of disaster that results from burning protein-enriched fibers like beef, fish, or chicken. These fires do not often produce lots of visible smoke and instead release a fine mist of low-burning animal fats and proteins that settle on surfaces and leave a strong and unpleasant odor.
Common locations for protein residue after a fire include:
Stovetops, range hoods, and cabinetry
Ventilation and insulation
Nearby pantries and closets
Fabrics and other porous surfaces
Ceiling tiles, paint, and wallpaper
SERVPRO Removes Odors & Protein Residues
SERVPRO technicians can use specialized cleaners for protein residues called enzyme digesters, which break down proteins into carbon dioxide, water, or water-soluble byproducts that lose their odorous quality and dissipate into the air. Insoluble protein residues are converted to simple, soluble materials that can then be absorbed and digested by the enzymes.
Odors throughout the home can be addressed with a variety of other tools, including odor counteractant beads, which are carefully implemented in the air intake portion of your heating or cooling system. The counteractants in them travel along air currents in the vents to spread pleasant scents like cherry or cinnamon through the home.
SERVPRO of The Lakes Region ensures that your kitchen looks, "Like it never even happened." For rapid disaster mitigation, you can call (603) 527-2518.
See more about Belmont.