Does My Laconia Factory Need Mold Removal?
9/3/2020 (Permalink)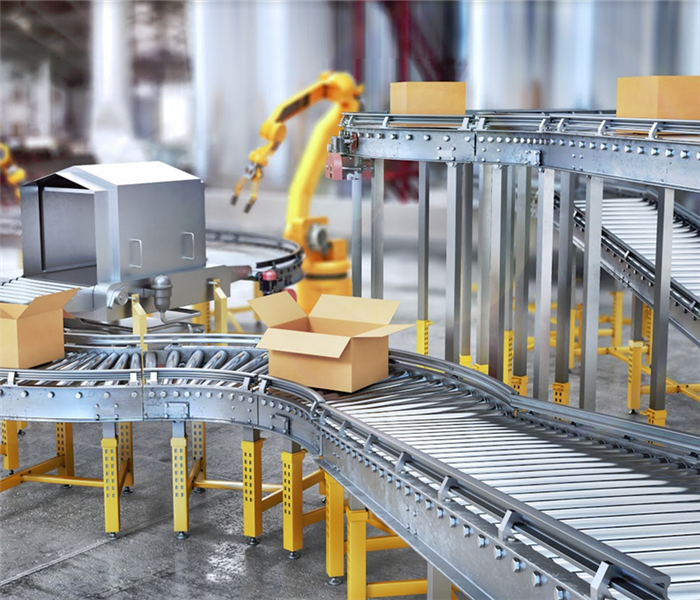 Your business needs to run smoothly and has no time for mold. Contact our team for effective mold removal services.
Laconia Business Owners Are Looking For Reliable Mold Removal
Anyone who owns a factory in Laconia knows that looking after such large buildings can be a challenge. From damaged roofs to structural problems and even flooding, many things can pose a challenge for factory owners.
Mold removal in Laconia is another challenge facing local factories. Does your factory need mold removal?

What is mold?
To understand the impact of mold on your factory, let us begin with the basics – what is mold?
Mold means fungi that grow together in hyphae – a type of cellular thread-like structure that joins all the spores together. Mold is a naturally occurring growth, which is most commonly seen on spoiled food or growing in patches in damp buildings.

Mold can grow anywhere that has moisture, food, and oxygen. Fungi can grow on:
Foodstuffs such as cheese and bread
The surface of damp smooth materials such as around taps or on shower curtains
On wallpaper or in the grout between ceramic tiles
Building materials such as wood and drywall
Fabrics such as leather, cotton, clothes, drapes, and carpets
Where might mold grow in my factory?
Most factories do not have much in the way of office furniture. However, mold can grow on walls, floors, ceilings, wood, drywall, and windows and doors. If a factory building is damp, it can provide a ripe breeding ground for spores.
Mold smells and looks unpleasant and can have health effects. If left untreated, it can spread further and grow on more surfaces. That is why SERVPRO recommends calling a mold removal team as soon as possible.
Are there any particular species of mold to look for?
It is not especially important to know which species of mold are present. SERVPRO trains our teams to handle any commercial mold infestation in Laconia. However, some of the species most likely to grow in a factory include:

Stachybotrys chartarum – when people think of mold they are usually thinking of this black mold whose growth is easily spotted
Chaetomium grows in drywall that has suffered water damage and causes a musty smell around your factory
Aureobasidium grows on wood and materials such as painted walls or wallpaper and has a pinkish black spotty appearance
Visible patches of green, black, or brown spores or slime are clear signs that your factory has mold. However, SERVPRO of The Lakes Region urges you to be aware of other signs of mold. These include damp patches on walls or ceilings and a musty odor.

If you suspect mold growth in your commercial premises, give SERVPRO a call as soon as possible. We train our technicians to handle any mold situation, and we're Faster To Any Size Disaster.
Can SERVPRO rid my factory of mold?
No – mold is a naturally occurring substance, and it is not possible to completely eradicate it. Please be wary of any company that promises total mold removal.
However, do not worry – there are many steps we can take to remediate your mold problem. Our teams can clean mold from surfaces, deep clean porous surfaces, use negative air filtration to remove mold from the air, and thoroughly dry your factory to discourage further growth.

What is the mold removal process?
The first step in mold removal is an assessment of the situation. We liaise with you to let you know our findings and our proposed plan of action – nothing will happen to your business premises without your say-so.
Next, we set up containment to keep the spore outbreak in one place and discourage spores from spreading further into your business. We also use negative air filtration to pull microscopic mold from the air and vent it outside your premises.
We remove any mold-infested materials that we cannot salvage.
Once the mold is contained, we set to work scrubbing and cleaning every mold-infested surface to remove as many spores as possible.
If your factory needs repairs such as replacing drywall or removing and replacing damaged brickwork, our team is on hand to carry out the restoration.
We also take care of odor removal, so you do not have to worry about lingering musty smells.
Should I make a disaster plan in advance?
You cannot predict when a disaster will happen in your business, including a mold infestation. That is why we recommend the SERVPRO Emergency Ready Plan (ERP). ERP is a popular tool for preparing for fire or flood, but it is also useful for mold. Simply download the app, set up your free account on a PC, and follow the on-screen prompts.

You will carry out a walkthrough of your business and take note of details such as water shutoff points and emergency contact details. You can also add us as a contact for remediation, and put in your insurance details. ERP means that if you spot mold, you can take action quickly.
For help with mold removal in your factory, call SERVPRO of Laconia at (603) 527-2518.