Why SERVPRO Wastes No Time Restoring Water Damaged Laconia Homes
1/28/2021 (Permalink)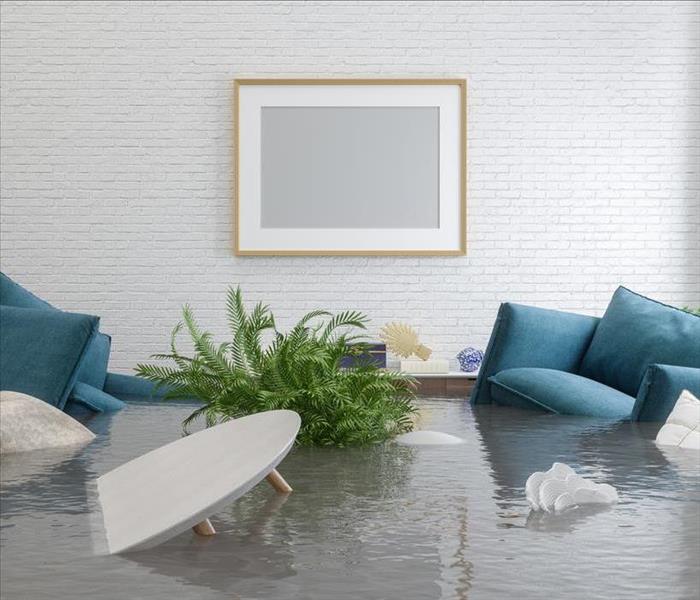 When you have water damage and don't know who to call. Call the professionals at SERVPRO for the service needed to have your home back.
Water damage comes from multiple sources, not just Laconia's lakes.
Our four large bodies of water make many of our industries possible while providing locals and tourists with pristine water for recreational activities. Water damage to Laconia's residential properties often comes from internal situations and rarely from our beautiful lakes and bays.
Two bays in between two lakes make Laconia a wonderful place.
The interconnections between our waterways –
Lake Winnipesaukee in the northeast, draining into the
Paugus Bay and then trickling into
Opechee Bay, and then feeding into
Lake Winnisquam, and these all work together to keep the water clean and fresh.
Because of these channels, we have some of the nation's cleanest lakes, despite the many industries that once relied on this same system.
Lake Winnipesaukee, which means Smile of the Great Spirit, is situated east of Laconia and is the larger one of our two lakes. Shallow, with many islands, also has Weirs Beach for summer swimming. During the winter, families have fun with cross-country skiing, snowmobiling, and ice-skating. Individuals and small groups sometimes spend the night near the lake for ice fishing.
Farther west, Lake Winnisquam has Bartlett Beach that residents enjoy. Even though this lake is much smaller, it also has islands dispersed throughout. Closer to Laconia, more residents probably visit this lake. Its name means Pleasant Waters in the native Abenaki.
Our bays are beautiful.
Two bays inside Laconia's borders, Paugus Bay and Opechee Bay, and an extra, Meredith, directly to our north, are full of fish, namely bass and rainbow trout. Fishing in the area gives many families together time and adds to picnics and at-home dinners. Boating lets people relax on the gentle waves, and kayakers can exercise in a tranquil environment.
Rental boats are available at the piers, as are jet ski setups. Before going out on the water, always check your life jacket, even if you are an expert swimmer. First aid kits and flares, and a working radio are also great additions to any time spent on the water.
In addition to the recreational benefits, the water in these lakes and bays impact us in Laconia in other ways. For example, our water supply comes from Paugus Bay. Without our lakes and bays, our attraction to tourists would significantly decrease.
When water damages your Laconia dwelling, restoration is the goal.
SERVPRO provides our customers with trained and experienced technicians, and all the necessary equipment, to restore their Laconia property and eliminate the effects of water damage. We have every stage of detection, cleanup, desiccation, and restoration covered from start to finish.
Much of the work required depends on how widespread the water became and how long the water existed prior to the start of our work. Each situation is different from all others. Some of the following may occur to a lesser or greater degree:
Minor tear-out of drywall and paneling and flooring,
Antimicrobial sprays of interior beams and supports in exposed walls, and
Restoration and cleaning of your furniture pieces.
Call SERVPRO of The Lakes Region at (603) 527-2518 for all of your water damage restoration needs.