Our Water Removal Strategies Can Save Your Hardwood Floors In Franklin
9/17/2021 (Permalink)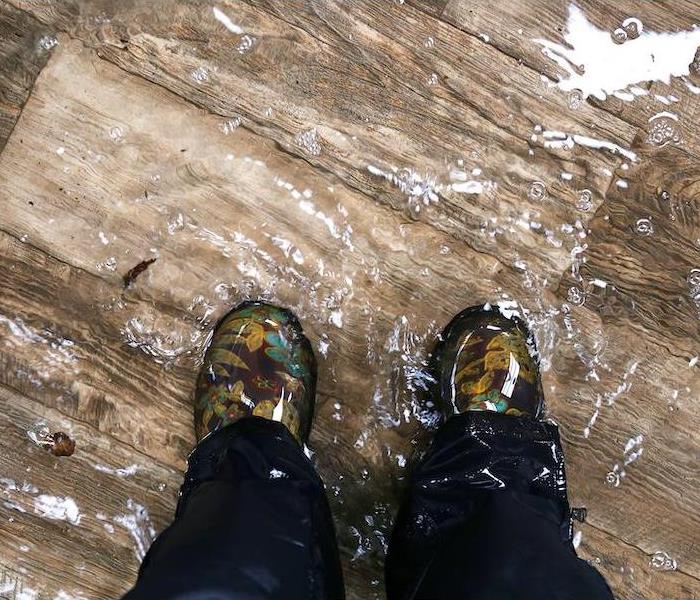 When your floors have experienced water damage. Call SERVPRO for fast and immediate water damage restoration services.
Professional Water Removal Strategies Save Hardwood Floors In Franklin
Although all structural components in your Franklin home can suffer harm after a water loss, floors take a beating. Some recent innovations in flooring materials such as laminates frequently do not survive a soaking, requiring removal and replacement. Traditional hardwood floors, however, are generally more durable, especially if our Institute of Inspection Cleaning and Restoration Certification (IICRC)-trained team of managers and technicians arrive quickly and begin water extraction services as soon as possible.
Professional Assessment and Planning
Our crew leads and project managers assess every project individually, planning water removal for your Franklin residence by evaluating the unique circumstances surrounding the disaster. The quantity of water, length of time since the event, contamination concerns, and migration from the original site are some of the aspects considered. We also look carefully at the type and condition of the materials damaged by the water to determine the next steps.
Moisture Location Devices Clarify the Damage Dimensions
SERVPRO uses sensitive moisture measuring and thermal imaging equipment to sketch out an accurate perimeter of where the water on your hardwood floor eventually migrated. Each plank edge permits moisture to seep down to the subfloor, and water can force its way into building cavities between walls at the baseboards. Once the surface sweep of the water extractors completes, it might seem as though all the water is gone, but the sensors show a different story.
Hardwood Floors Respond Well to Negative Air Pressure Strategy
When water soaks the subfloor, that residual moisture can wick back up, exposing the hardwood surface to the risk of permanent distortion. Cupping, crowning, and buckling are all possible unless the moisture content reduces to normal levels. SERVPRO uses negative air pressure to suction the water from multiple levels of flooring materials. Our technicians place floor mats over areas with high moisture readings and attach the mats to hoses connected to high-efficiency extractors. As the moisture decreases in an area, we reposition the mats until readings indicate the water removal goal is met.
SERVPRO of The Lakes Region utilizes technological advancements in moisture detection and water removal to protect your investment in beautiful hardwood floors. Call (603) 527-2518 to schedule a professional water remediation assessment and project planning.