Remediating Commercial Water Damage in Belmont
2/12/2018 (Permalink)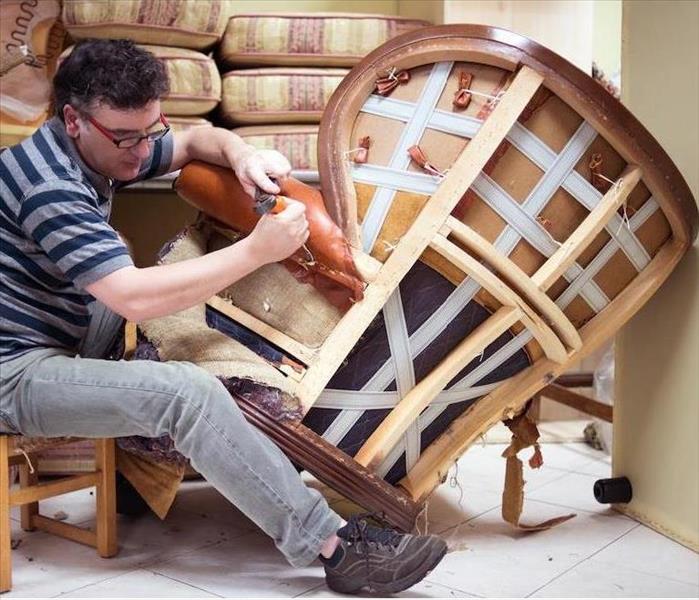 When you have a small manufacturing facility, any downtime due to damage is costly. Should your facility suffer a water damage event, call SERVPRO.
SERVPRO Technicians Quickly Dry Out Your Business to Minimize Any Closures
To a Belmont business, any disaster is double the loss, or more, than when the same problem strikes a home. Besides the structural damage, there is damage to inventory, and the loss of income for every day shut down.

Commercial water damage in Belmont can close a small business quickly unless the owner has a very good insurance policy. It does not stop closure though, only slows it down. Each of our offices is locally owned, so SERVPRO managers know exactly how important it is to reopen the doors and begin helping customers as quickly as possible. For a small manufacturing company, we understand that the emphasis is to dry out the facility so employees can safely return to work and begin turning out a finished product again.

Since this is a structure with multiple exits and entrances, we can use that to start drying out the facility. If the weather permits, we open every door and window possible not just to help drain water but to establish a crossflow and circulate the air inside. Our technicians augment this natural process by installing exhaust fans at key exit points and air movers inside to force warm, dry air into the circulating cooler, damp air.

As team members set up these devices, other SERVPRO technicians remove any standing water inside the business. For deeper water levels, we can start with commercial grade pumps which draw out most of it. Then, we change to a smaller device called an extraction wand. These can draw water off concrete and linoleum floors until there is very little moisture remaining.

To completely dry the floor, team members push the last traces of water out the nearest exits with large squeegees designed for this task. In corners and other areas where it is difficult to remove the water, technicians set up more air movers to force warm air over the spots to dry them. We carefully control the temperature since too much heat can generate more moisture.

With the water removed, we can then redirect air movers to dry water from under shelving, storage units, and mechanical equipment. If needed, we also have the option to place dehumidifiers inside the building to help dry out equipment and the surrounding air.

If you are trying to work around water damage in your business, stop, and contact a professional restoration company immediately. SERVPRO of The Lakes Region has served New Hampshire businesses for over twenty years and can help you get back up to normal operations. Call (603) 527-2518 today to schedule a visit with one of our teams.

Click here for more information about the city of Belmont.