Eliminating Fire Damage Residues In Belmont
7/25/2018 (Permalink)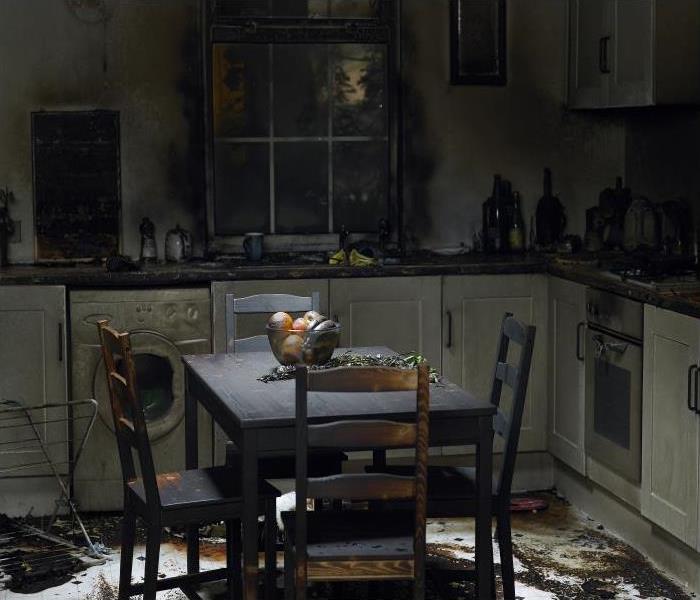 Besides the physical damage caused by the flames, there are also smoke residues that can coat the surfaces in a home and leave odors.
Eliminating Fire Damage Residues
Belmont homeowners usually have multiple problems after a fire. Besides the physical damage caused by the flames, there are also smoke residues that can coat the surfaces in a home and leave odors.

SERVPRO restoration crews combat these types of Belmont fire damage by learning everything possible about them. That includes various types of residues, how they form during the fire, the materials that burn, and the best methods for cleaning them.

Every fire produces smoke residues. Most are dry and wet smoke residues. If the fire burns the material quickly, and oxygen present is abundant, the residues left are usually dry, powdery, and non-greasy. Materials that burn quickly are paper, dry wood, and natural fibers like cotton or wool.

Technicians can easily clean them off surfaces using a dry sponge or wipe them off upholstered furniture with a brush. If they are thick, specialists can use a vacuum to remove most of the residue and then follow up with a sponge.

If a fire starts in a space with less oxygen, it burns slowly. This smoldering fire produces a thicker smoke that often leaves a wet or sticky residue. Items that contribute to these residues contain synthetic materials. Examples include plastic like kitchen appliances, foam rubber furniture cushions, and other polymers like linoleum floors.

Depending on how thick they are, SERVPRO technicians can clean wet residues using a cleaning agent and a wet sponge. For very thick residues, they may need to use stronger cleaners to break them up and then a scraper to remove them.

In special cases, there are protein-based and fuel oil smoke residues. Protein fires start in the kitchen, with burning beef, fish, or poultry. The residues left by these food products can leave a clear, or yellowish color on every surface. Technicians clean them using the same methods for cleaning wet residues.

Odors left by proteins are extremely pungent and can spread through the entire home with the smoke, even if most of the residues remain in the kitchen. To remove them, technicians use deodorizing agents, foggers, air movers, and fans to neutralize odor particles and force them out of the home.

Puff-backs leave fuel oil smoke residues. They are common here and in other parts of the Northeast where residents still use traditional furnaces. A puff-back happens when a malfunctioning oil burner ignites incorrectly, or there is a crack in a heat exchanger.

Both problems shake loose old soot which can be forced out of the system and into the home along with unburned fuel oil. Technicians can often remove the residues without damaging painted surfaces. If the furnace operated for an extended period before a homeowner notices, then the residues may bond to the paint, requiring us to strip it and perhaps the wall panels underneath.

If you have problems resulting from a recent fire, call SERVPRO of The Lakes Region at (603) 527-2518 today. We are here for you.
Click here for more about Belmont.