How Professionals Remove Water Damage From Your Franklin Home
7/15/2019 (Permalink)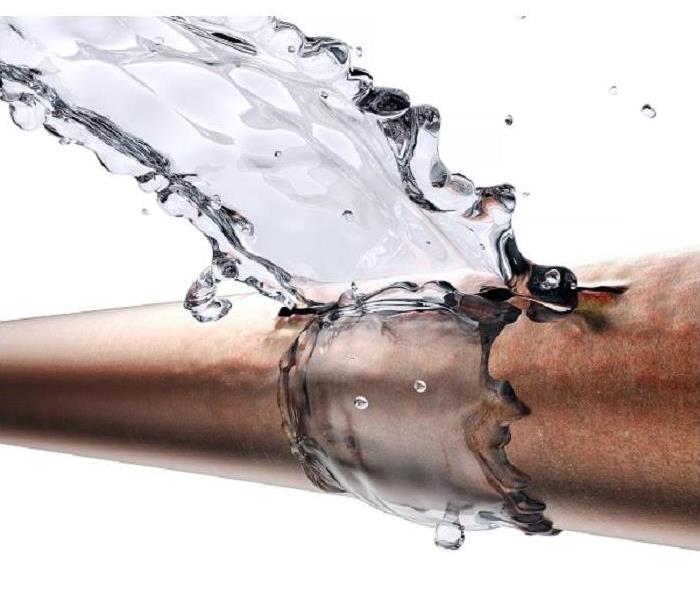 Broken pipes are a common cause of water damage. Inspect your plumbing often to spot and repair any weaknesses before damage occurs.
Professional Water Removal Operations in Franklin
Despite having the Merrimack River in town, Franklin residents generally see more water damage from failed appliances and plumbing. Fortunately, while flooding from outside the home contains many types of contaminants, the internal water from a dishwasher or cracked inlet pipe is considered clean and easier to deal with by a professional restoration company.
Franklin home water removal requires the latest in equipment to accomplish the task swiftly and without causing further damage to the residence and any property inside. SERVPRO technicians train to and beyond industry standards to support residents in restoring their homes.
Most internal water intrusions drop smaller amounts of water than outside flooding. That means, in most cases, technicians begin operations with extraction devices. Smaller than most pumps, these devices are adjustable by the operators and come in a variety of sizes tailored for the needed task.
For large homes that have much water, but still barely higher than a carpet, SERVPRO personnel can utilize truck mounted extractors. These devices have a collections tank and a generator- or truck-driven vacuum that is excellent for large floor areas to draw water out of carpets and off wood or concrete floors.
If a home has a very thick carpet, technicians can also use an extractor they can ride on. This device is powered by the residential electrical outlets, or with an outside generator from our equipment inventory. The water collected goes into an external tank on the truck or directly into a sewer access point if one is available.
For smaller homes and in tight areas like closets, personnel have two smaller devices. The first is a more powerful version of a water vacuum similar to what is available at major retailers. The second is a wearable version that a technician can take anywhere. Both have internal collection tanks and are powered by plugging into the home's outlets, or into a generator from our equipment inventory placed outside the home.
For SERVPRO of The Lakes Region, supporting our community and surrounding areas like Laconia, Belmont, Tilton means helping neighbors, and not just customers, to return to their homes as quickly as possible and in a safe, dry environment. To learn more about what we do for your home, call us at (603) 527-2518 today.
More about Franklin.